Gastspiel
Sonntag, 9.10.05, 17:00 Uhr
Indonesischer Tanz und BewegungsChiffren
Dwijaya Syaifil Munir und Diana-Maria Sagvosdkina
BANYU MILI- so zu sein wie das Wasser-
ist das Ideal, an dem sich jawanische Tänzer heute noch orientieren. Dwijaya Syaifil Munir wird in traditionellen und modernen Choreographien Banyu Mili auf die Gegenwart beziehen. Auch in Indonesien haben transnationale Konzerne Hand ans kommunale Eigentum gelegt. Sie erleben einen echten Künstler, der neoliberale Weltpolitik aus der Sicht eines Betroffenen interpretiert.
Im 2. Teil des Aufführung wird die Gastgeberin Diana-Maria Sagvosdkina mitwirken.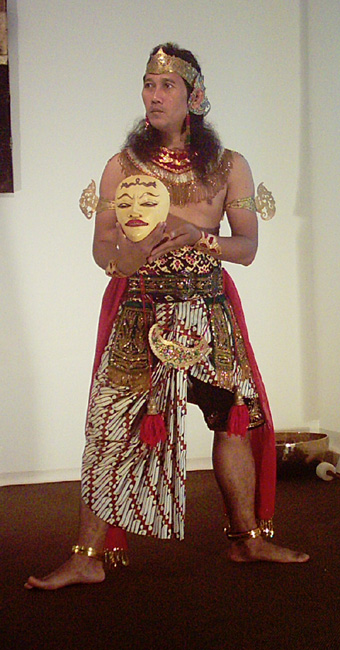 Dwijaya Syaifil Munir jaya_kelana@yahoo.com

www.jayakelana.de
www.keroncongiblis.blogspot.com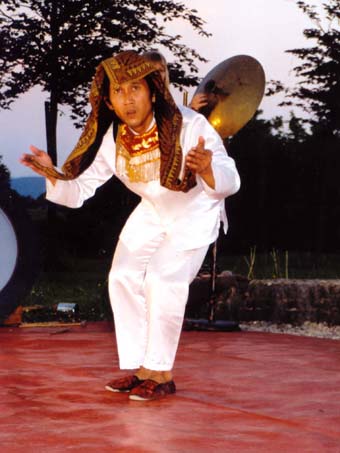 Since the beginning of the cultural exchange between Java and Germany (1999-now), Jaya participates in the Eurythmie-Mobil group as a dancer, singer, gamelan player or clown. He was born 1968 in Central Java. He was formed in STSI (Solo university of arts). In Solo, for at least 10 years he leads several dance groups of young artists. Teaching at the Intenational Youth Conference CONNECT 2003 in Switzerland he could transmit his understanding about being connected in a workshop named "dance your own rhythm".

His performing arts show a clear dedication to the traditional javanese style from where he develops improvisation as a solist or a partner in pieces like: Dreaming in Drumming (1999), Reaksi (2002), Tepung (2002).



---
---
Studio für BewegungsChiffren
Diana-Maria Sagvosdkina

Mobil: 0175-5017409
bewegungschiffren@gmx.net
info@bewegungschiffren.de



---
---


Dwijaya & Diana-Maria 1, kurzer Ausschnitt

Video bei Youtube:

www.youtube.com/watch?v=M0zle2V0vMs



Dwijaya & Diana-Maria 2, kurzer Ausschnitt

Video bei Youtube:

www.youtube.com/watch?v=KmtQ6dsuAfY





Dwijaya & Diana-Maria 3, kurzer Ausschnitt

Dwijaya & Diana-Maria 4, kurzer Ausschnitt

Video bei Youtube:

www.youtube.com/watch?v=4ES_At85ao0





Dwijaya & Diana-Maria 5, kurzer Ausschnitt

Video bei Youtube:

www.youtube.com/watch?v=aOgupF94un4





Dwijaya, kurzer Ausschnitt

Video bei Youtube:

www.youtube.com/watch?v=dcQ1sL0Sidk





www.youtube.com/watch?v=v8gH9BeEZ8w





zeitgenössischer Indonesischer Tanz: Banyu Mili – von Dwijaya Syaifil Munir
das Wasser in der neoliberalen Weltpolitik

www.youtube.com/watch?v=FirzB1-czQg



www.youtube.com/watch?v=RsuwDDd0X2Y





zeitgenössischer indonesischer Tanz & BewegungsChiffren: BANYU MILI
Dwijaya Syaifil Munir & Diana-Maria Sagvosdkina

www.youtube.com/watch?v=SLVtBUnq9lk



www.youtube.com/watch?v=qelishDQCyM



www.youtube.com/watch?v=IhEfl28pIB4




---
---